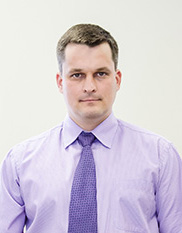 Message
from President of the Corporation CJSC «Ukragrohimholding»,
Head of the supervisory board of the Private Joint Stock Company "Dniprovsky plant of chemical fertilizers".
&nbsp&nbspPJSC «Dniprovskyy Plant of Chemical Fertilizers» passed not simple way. We had to outlive times, when our factory stood idle. And today we produce competitive high-quality products in a wide assortment, constantly perfect our production and increase the level of the productivity.
&nbsp&nbspGold fund of PJSC «Dniprovskyy Plant of Chemical Fertilizers» it is his workers, the command of like-minded persons, which not only revived the enterprise but also showed it out in the leaders of chemical industry of Ukraine. And I am very much glad and grateful to the colleagues that throughout all these years I have possibility to work next to them.
&nbsp&nbspOur fertilizers are successfully realized at the domestic market of Ukraine and exported to the countries of Europe, Africa and Latin America. For comparatively short time PJSC «Dniprovskyy Plant of Chemical Fertilizers» acquired reputation of a reliable partner. Our specialists treat especially attentively every enterprise which co-operates with us, be that а large agrarian company or a small farm.
&nbsp&nbspWWe offer you personally to make sure of all advantages of mutually beneficial collaboration with us. We hope that PJSC «Dniprovskyy Plant of Chemical Fertilizers» justify the trust rendered by you and will expectations of conduct profitable business with us.
Sincerely Yours,
Sergey Moskalenko